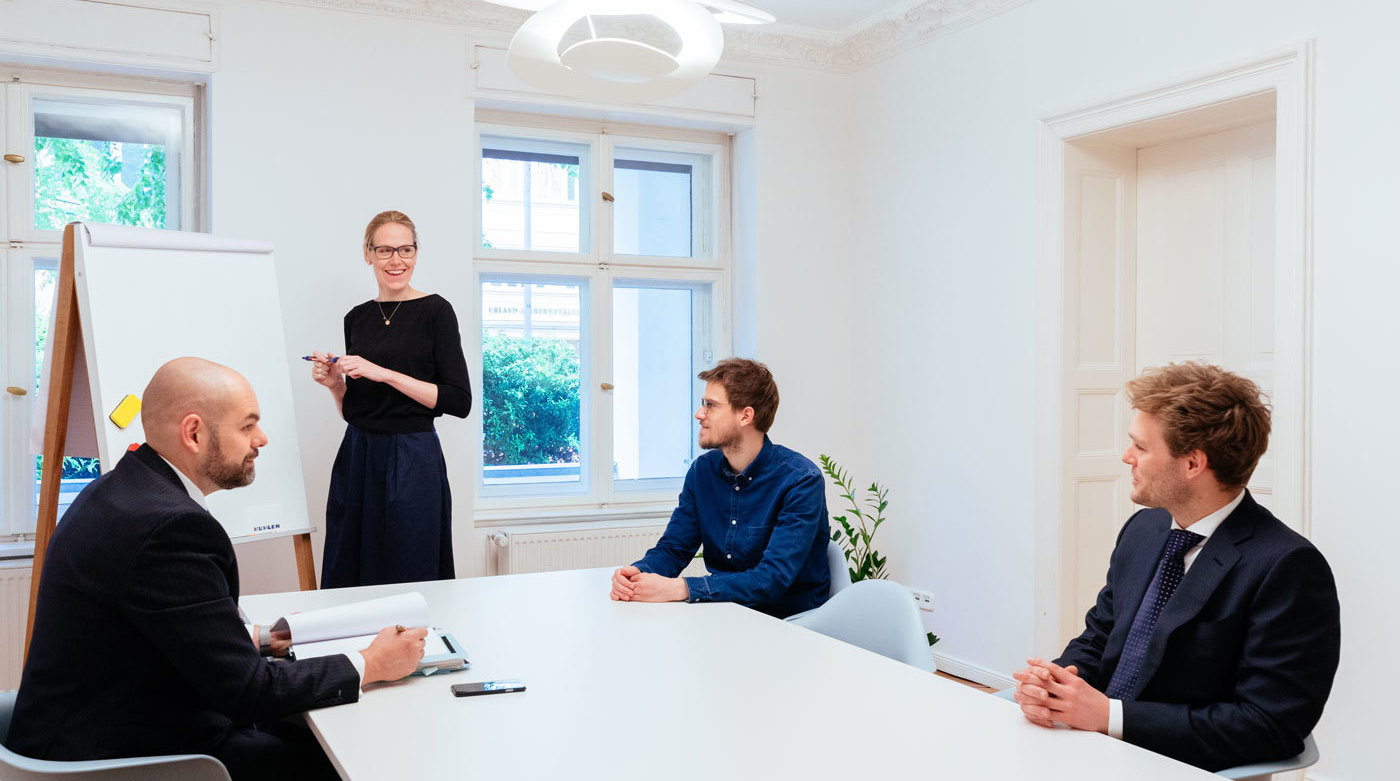 We provide a comprehensive consultancy service for all questions concerning commercial law
From start-ups to long-established banks, we love supporting you and your ideas and ventures, and helping you make these a reality. By working with KUHLEN, you can benefit from the passion of our lawyers and their deep understanding of your profession. You have the vision – we provide the legal arguments.
We can advise you on corporate law, banking and capital market law, real estate law and on all contractual matters. We represent your interests with the necessary strength and tact to ensure success on your part. We handle your corporate housekeeping.

We advise people.
Legal questions must always be considered within the context of the people who pose them. Trusting partnerships form the basis for tailor-made solutions.
We develop solutions – together with you.
Legal problems are often complex. We show you the opportunities and risks, and work together with you to find the path that benefits you most.
We speak your language.
Complex problems do not necessitate complex language.
Solving problems, not causing them.
We work efficiently, pragmatically and with one eye on the objective at all times.
We like to litigate – but only when necessary.
We love our work. And litigating in front of a court is part of it. But only when it is the right solution for your specific problem.
Keep up to date with the latest news in our news section.
Our areas of activity
Doing business in Berlin
We advise international clients who are launching, expanding or conducting their business in Germany.
We can support you in setting up a German company; whether it be an UG (company with limited liability), a GmbH (the German equivalent of an Ltd), an OHG (a general partnership), a KG (a limited partnership) or even a GbR (a company constituted under civil law). We will help you register a branch office for your foreign company, for example an English private limited company. From advice on the suitable legal structure and individual contract design, right up to taking care of all the communication with authorities, translators and notaries, we are here for you. Berlin offers a very fertile platform for the realisation of ideas for creative people and entrepreneurs. We are at home in this international scene, and you can benefit from our excellent network and many years of experience. 
Real estate law
Anyone undertaking a business venture also needs a roof over their head.
From concluding a lease on a commercial property to the buying and selling of real estate; we stand at the side of our clients. We represent and advise private and commercial buyers and sellers, property developers, estate agents and brokers.
Corporate housekeeping
In us, you will find a reliable partner for the corporate housekeeping for your on-going business.
Our services include: 
The structured preparation of shareholders' meetings and decisions.
The representation of shareholders at shareholders' meetings.
Effective contract management.
Thus, you can give yourself and your managing directors the very best protection from liability claims, so that you are free to focus on your core business. In doing so, you benefit from the advantages and security of having a legal department that is focused on legal protection, together with the efficiency and efficacy of external consultancy. 
Banking & Capital Marketing law
It is not just the business undertaken by banks and financial service providers that are regulated by regulatory requirements.
The overlaps with capital market law have continued to increase for companies over recent years. We advise businesses on progressive forms of financing within the framework of private equity and venture capital, as well as crowdfunding.
Furthermore, the high levels of expertise in banking and capital investment law that we are able to offer banks and financial service providers in their day-to-day business sets us apart. When it comes to the structuring and defence of class action law suits for investors, including in accordance with the German Capital Markets Model Case Act (KapMuG), we can look to a rich wealth of experience from which our clients stand to benefit in the defence and enforcement of claims. We provide expert advice on everything from tax-sheltered real estate to fund investments.
Conducting cases
We have extensive experience when it comes to achieving the objectives of our clients in court.
We have particular expertise in cases concerning capital market, capital investment and corporate law disputes. As strategic thinkers, we find the right way to effectively protect your interests, even in complex cases. We want to keep your costs down. As such, wherever it is wise and possible to do so, we will always try to find alternative methods of dispute resolution before going to court.